(الموقع غير مسؤول عن محتوى هذه الإعلانات، يرجى إعلامنا في حال وجود إعلانات مسيئة)
Simple ways to memorize with fun worksheets for young children, especially for the memorization and tafseer of Surah Al Fatiha
In the name of of Allah the Merciful
This is the beginning of Tafseer Series for Kids starting with Surah Al Fatiha Tafseer.. then moving to Juz Amma
Today's topic includes the following points :
A brief simplified interpretation that the mother uses to explain Surat Al-Fatihah to her child
Cards that help in the process of memorization and building visual memory
Fun worksheets to motivate the child
Note: The pictures in the topic are for display only, and you will find all papers and cards in a file for download at the end of the topic
First: Surah Al Fatiha Tafseer, which is easy for the little ones
Be careful, mother, to teach your child Surat Al-Fatihah yourself, because he will recite it later throughout his life in every prayer, and it will be a great reward for you..
Hold the Qur'an and carefully present it to your child… Do you know, my love, what is the best and greatest surah in this Qur'an.. Guess… Let him open, turn and choose a surah..
Open the page of Surat Al-Fatihah and put his finger at the name of the surah… This is Surat Al-Fatihah .. Certainly you hear me when I recite it in prayer.. It is very special.. One day a door was opened from heaven… An angel of angels descended from it… and the Prophet, may God bless him and grant him peace, told Peace be upon us , if we read Surat Al-Fatihah, then God responds to everything in it and achieves it for us, so there are beautiful supplications… Do you want to know what they are together?
Let's start… what do we start with. What is the first verse… In the name of God, the Most Gracious, the Most Merciful: with it we start all our affairs and say them before food.. and before all actions.. so that God helps us to perform them..
Praise be to God, Lord of the Worlds: If someone does a favor to you, what should you say to him? Thank you.. well done..don't you see that God has given us many beautiful things? He created these two beautiful eyes for you.. you see a rainbow with them.. he created for you a strong hand that you build with cubes… he created for you food that you love.. what food do you like to eat the most?
How do we say thank you God? We say: Praise be to God, Lord of the worlds
The Most Merciful, the Most Merciful: God understands us and loves us as I understand and love you, even more… and I forgive you when you make mistakes.. God forgives us and has mercy on us with a great deal of mercy.
Owner of the Day of Judgment: The Day of Judgment is the day God promised His servants who worship Him and obey Him that He would admit them to Paradise on it and there all their beautiful wishes would be fulfilled.
Thee we worship and thee we seek help: to worship God means to do what He commands us… and to seek His help means to ask Him for help in all the times of our lives.. Who is the strongest one in our house? Baba ? Don't you see how much I ask for his help sometimes because he's stronger than me? Baba asks God for help to give him strength, health, money and everything
Guide us on the straight path…..: You can make a race between you and your child… Draw a line to reach or tie a tape between two chairs… Let it be easy in a straight line and you will walk in circular and coiled lines… You can do this game on paper as you will see later… Ask him why I didn't get to the end, do you think? Because I did not walk in a straight path… which is the correct and shortest way to reach… When we do things in the right way as God commanded, this means that we are on a straight path and the people who do not do that are the lost, i.e. the lost…
---
Secondly, the cards for reciting Surat Al-Fatiha:
You may ask: What is the benefit of opening the Qur'an and the cards on which the verses of the surah are written for a child who has not yet read…
The visual memory of a child up to the age of 5 years is at its height… It is like a video recorder… But he is not able to use and employ it yet, he only records…
What we can develop now is his memorization of the form of the verses so that he can distinguish it even without reading… and you will see that he will start reciting from the Qur'an much earlier than his peers, God willing..
How do I use the cards with my child?
 You can find the Arabic original of this Series here:
Index of interpretation of Juz Amma
---
Third- working papers for Surah Al Fatiha Tafseer :
We designed two worksheets for you in the event that memorizing Surat Al-Fatihah will take place in two stages…
The first paper is an application on the meaning of praise be to God….. The child will draw things that God Almighty created for him.. One on each leaf of the rose…
Then he cuts and glues the parts to form a rose of praise
The second paper, to show the child the meaning of the straight path… Which road leads to the end faster? … You can use the paper as a race, take a pen and draw the zigzag line and let your child precede you by reaching the straight line…
you may also like: Repeating after the Moathin Sunnah
(The site is not responsible for ad content. Please report offensive ads.)
You can download the printable for this worksheet by clicking on the Download File icon: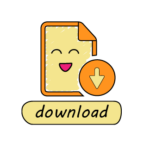 Download Surah Al Fatiha Tafseer printable
this article is translated to English from the original Arabic one, so if you have any translation correction please contact us
Share with us the photos of your application for the activity and remember to always follow us on our Facebook page and our Instagram account
find us on Pinterest!
By using the papers of the Riad Aljanna Blog, you agree to the terms of use of the following blog materials:
You can download as many materials as you want for free
Materials can be printed in any numbers and quantities, distributed and published for free
Topics can be read, copied and moved, but provided that the source is mentioned
You cannot copy and publish any of the topics without placing the link to the original topic from the blog
It is not possible to upload any material from the blog on other personal, commercial or social media upload sites or apps. Participation is only using the original source that is the blog
It is not possible to print any of the materials of Riad Aljanna for the purpose of selling or using them in any commercial activity
Blog works cannot be included in any works, applications or books without the blog's permission
It is not possible to make partial or total modifications to the materials and publications ofRiad Aljanna before or after printing
It is not possible to remove the site's logo and link from the published materials
If you have any questions, you can always contact us via the website or email:
[email protected]
or WhatsApp: 00201100214031