(الموقع غير مسؤول عن محتوى هذه الإعلانات، يرجى إعلامنا في حال وجود إعلانات مسيئة)
90 ideas for different easy good deeds that your kids can perform to get prepared for Ramadan or at any time
Bism Allah Alrahman Alraheem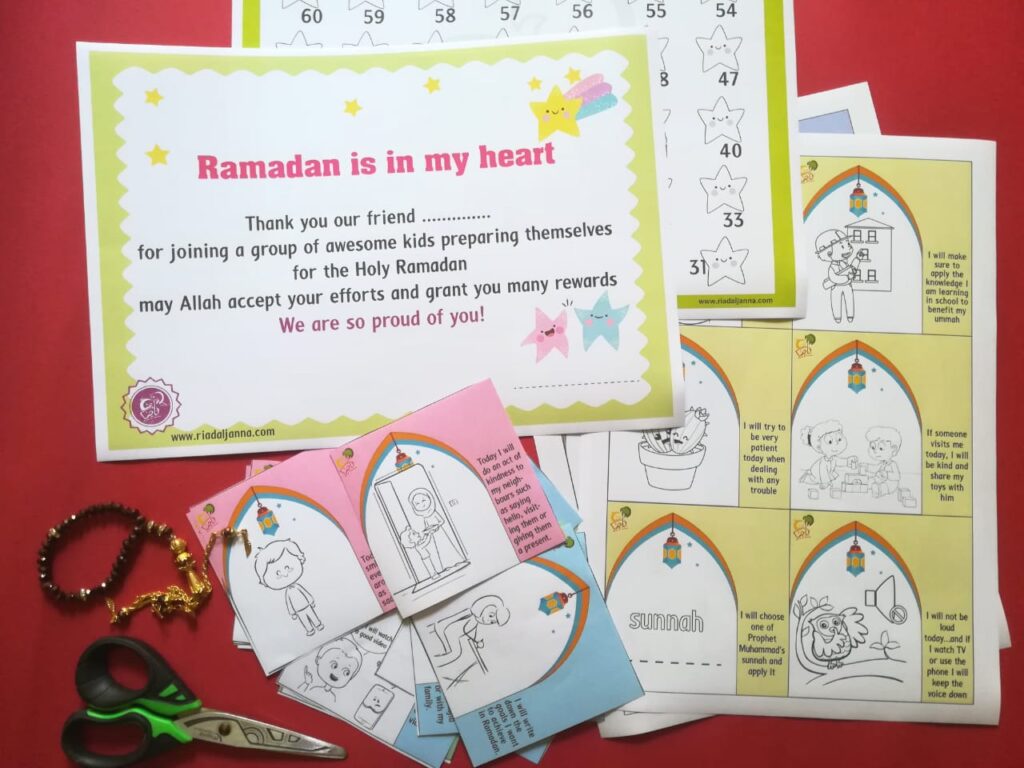 For this upcoming Ramadan, Riadaljanna is offering a wonderful daily program for your child called "Ramadan in my heart", the goals for this program are:
1- To raise child's awareness of the importance of the months that precede the month of Ramadan and the virtues of the holy month of Ramadan.
2- To help the child understand the Hijri months so it ease the memorization of the Islamic months.
3- To be spiritually ready to welcome this month by doing good deeds frequently and turning it into a lifelong habit.
This program consist of ninety tasks or activities for three months which will be divided into three parts. The second part for the second month is ready to be print out, the rest will be posted soon inshaAllah.
How to apply this program:
1- Start at the beginning of the month of Rajab and print out all the cards included.
2- Create an atmosphere of excitement by reminding the child about the arrival of a very special guest which is the holy month of Ramadan.
3- Involve the child with the preparations physically and spiritually by not only getting our house ready to welcome the special guest or purchasing new Eid clothing, but also by doing good deeds and acts of kindness.
4- Assign one daily task for your child to finish and color the specific number for that day in the chart below.
5- Motivate your child by constantly reminding him that doing these tasks will earn him the pleasure, rewards and love of Allah SWT.
our website is not responsible for the content of these ads, please contact as for any Inappropriate ad
To download the program click on the picture of downloading the file and wait for the downloading to start please:


The file was translated to English by :(Hadia Shukairy ) and (Bayan Tohmaz) jazakom allah khairan.
many thanks to sister Nada sheikha for helping with drawings
If you wanted to help us translating other materials please feel free to contact us
We hope your child enjoy it, and please feel free to share it 🙂